Kathina is a traditional Buddhist ceremony that has taken place since the Buddha's time almost 2600 years ago. It is a ceremony for offering material goods and financial support for the monastics. Throughout the year, the monastics provide an abundance of teachings, guidance, and opportunities to practice Dhamma. All are freely offered to help support spiritual practice and Buddhist teachings.
Everyone and Every Age is Welcome!
pg1kathinaenglish17

pg2kathinaenglish17

To donate now, please visit the donate page.
Please join Phra Ajahn Vuttichai (Phrawoody) for a daylong of learning and practicing
the Noble Eightfold Path and the Middle Way.
The day retreat and dhamma teaching  starts at 9:00 AM and ends at 9:00 PM. Come for as much or little as you like.
There will be an opportunity to offer a meal in the morning where you can bring your favorite dishes to be offered to the monks for lunch and enjoyed by the attendees afterward (think potluck).
If you are coming from out of town, you can stay overnight after the retreat.  If you do plan to stay, please bring a sleeping bag or bedding to sleep in.
Schedule:
9:00 am – 11:00 am:  Morning Session*
11:00 am – 12:30 pm: Meal Offering and Lunch
2:00 pm – 6:00 pm: Afternoon Session*
6:00pm – 7:00 pm: Evening tea and group discussion or dinner for those not on 8 precepts
7:00pm – 9:00pm: Evening Session*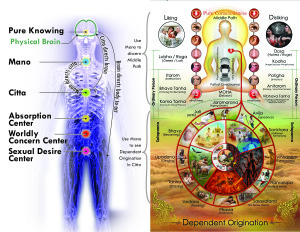 *Please note that this is not strictly a meditation retreat.  The schedule is relaxed and flexible. The sessions are a combination of meditation (sitting, walking, and/or standing) and Dhamma talks that include opportunities for question and answer.
This retreat, just like other teachings at OAOR, is freely given and made possible by the generosity of retreat attendees and lay supporters of OAOR.  There will be opportunity to offer your support through dana practice at the retreat.
Click here to read more about dana practice in Buddhism.